Safety & Tie Back Anchors
---
Complete this form to download your free brochure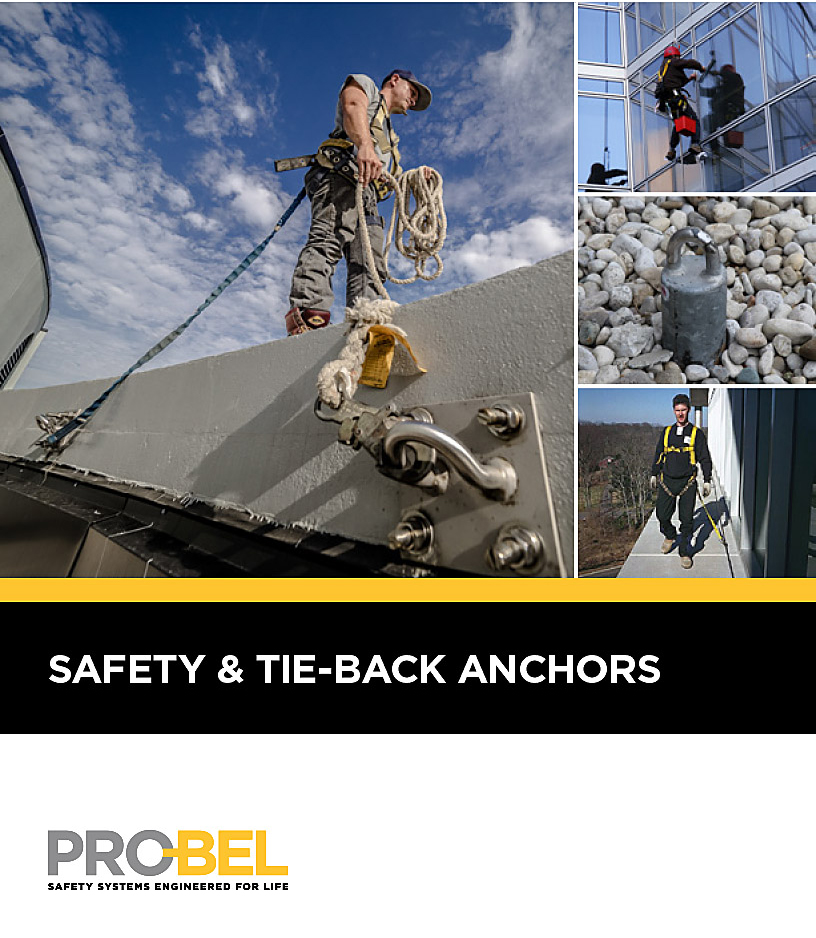 ---
What to Know About Using Tie Back Anchors
Tie-back anchors are a trusted method of securing fall protection systems that serve the purpose of ensuring worker safety when working at a dangerous height. These incredibly useful devices ensure that workers are secured to the surface at all times and can confidently complete their work in time. While working at heights, providing a permanent solution is not only required to keep workers safe generally but also ensure that you can get the job done right, without concerns about falling. They can be designed to create a horizontal lifeline or used as a single point that secures a vertical line to a building top. These much-needed elements are also helpful when you need to suspend heavy equipment over the side of the edge, by providing a structural attachment between buildings and support equipment that can prevent any movement from happening. Read on to find out what you need to know about these solutions.
Where To Use Them
Tie-back anchors are used in a variety of applications, however, they are usually found in situations where a rooftop is needed to secure lines going down over the edge. This allows for added security and stability as the lines have a far more secure connection that cannot easily be broken or tampered with. These secured systems allow for peace of mind when working at height, allowing much more coverage over a surface. Typically, they're used for jobs that entail window washing and painting taller buildings, but they can also be used for external maintenance jobs, temporary rigging equipment, and rope descent systems. These useful systems can be used indoors, on virtually any platform with a leading-edge. When these are in use you can be certain that all safety precautions have been covered.
How To Use Them
When you are making sure that you are properly attached and secured to the system, your equipment must be fully checked and examined before dropping off the ledge. Inspecting your gear and equipment for faults or tears will help to ensure the anchor will keep you secured whilst working, as this will be the line that takes your weight and keeps you close to the wall. It is critical to check the installation correctly to be certain that you are within all weight limitations and that all elements are correctly secured in place. If still unsure how to properly use a tie-back anchor, we offer installation and training services to ensure peace of mind that your workplace is compliant.
What Methods Are Available
There are a variety of different types of these systems that have applications and uses for specific work types. These designs can be tailor-made to ensure your work can be carried out ideally. They vary in different heights and attachments to best fit the desired job you are about to tackle. These reliable safety precautions are especially useful for stand-alone jobs, such as window washing, when a consistent amount of weight will be on the systems and you need to ensure you can move freely up and down the space when needed.
Tie-Back Anchors
These elements are usually made from galvanized steel, with various mounting options such as backer plated, welded, direct bolting, casting into concrete, and just welding posts. These offer you a range of connections that will be suited to your building or ledge situation.
Wall Connections
These systems also feature a wall anchor, which can be attached to flat surfaces such as walls, ceilings, and floors. It is removable and reusable and also features a variety of customizable features that help to strengthen and straighten the wall while it is being worked on.
Fabricated Posts
Fabricated posts are available as a single point, intermediate, or end or corner anchorage and are available in a range of heights. They are easy to install and have low maintenance requirements which make them common investments. Mounting options are customizable, such as welding posts with no base plate, backer plates, direct bolting, welding options or even casting in concrete.
When you need tie back anchors for your workers be sure to invest in their safety and security by getting the best system possible. Speak to our professional team to find out all you need to know about these designs. Contact us today to find out more.