---
Projects that require fall protection and/or suspended access can come in all shapes and sizes. We've worked on buildings as short as 2 levels to as tall as 99 levels. However, for each building maintenance solution, there are design considerations that must occur at the preliminary planning stage.
AT PRO-BEL THERE'S NO PROJECT TOO SMALL OR TOO TALL; WE DO IT ALL.
---
First and foremost, to provide you with the best solution, we need access to your most up to date drawings and specs. If you're in the early design stages of your projects, these documents may be preliminary, but that's okay! Involving us early in the process helps us identify concerns that should be addressed sooner rather than later for smoother coordination.
---
Architectural Drawings (the full set)

Mechanical Drawings (just the roof layout)
---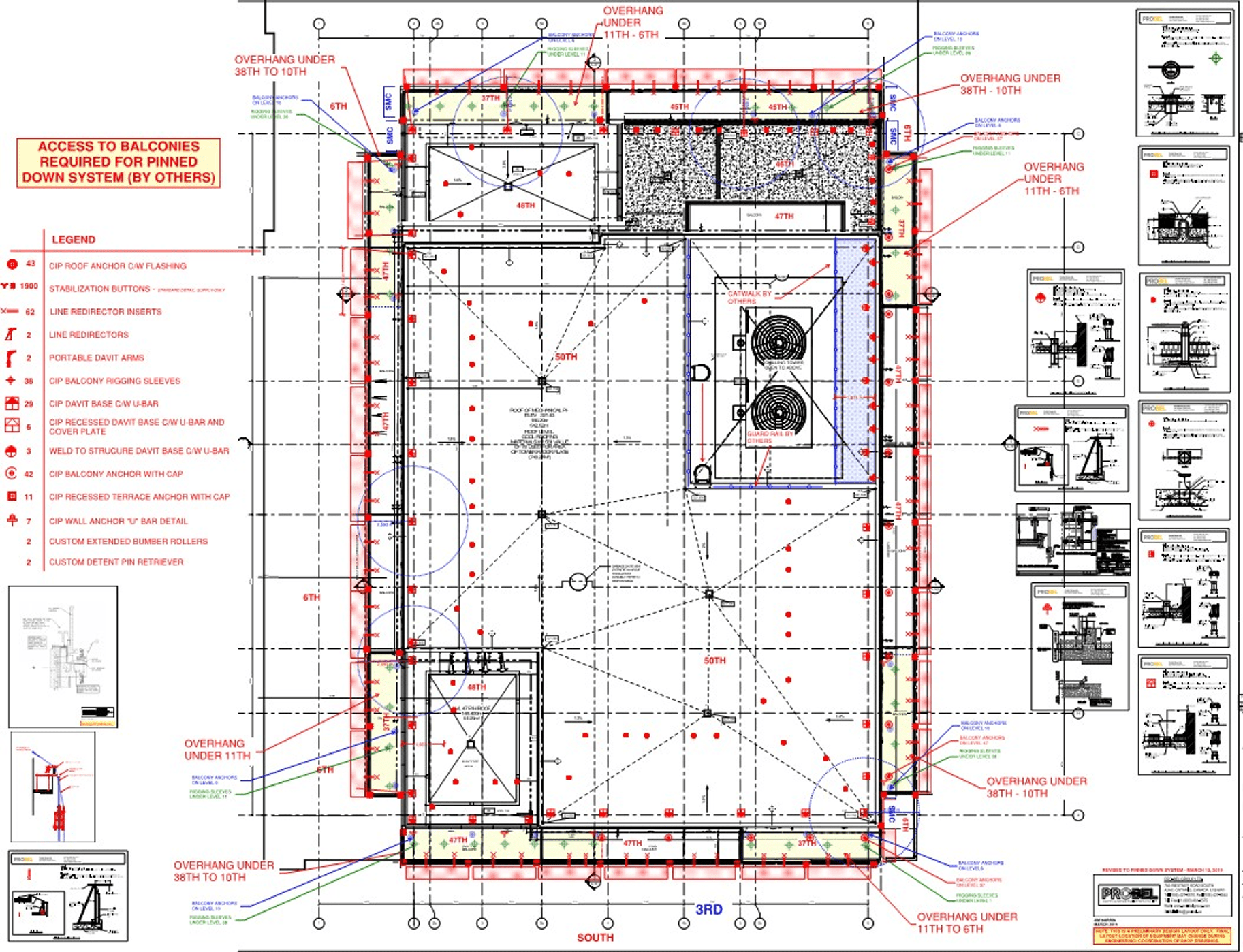 Above is an example of what a Pro-Bel design can look like. Make sure to always share your most up-to-date drawings so we can provide the most comprehensive design possible.
---
DESIGN CONSIDERATIONS
These are not in any particular order, nor is this an exhaustive list, but it will give you a better idea of what to expect when working with us!
CODES AND REGULATIONS
Now that we have your drawings, what's next? Depending on where your building is located, we design under a specific set of codes and regulations to suit that jurisdiction.
If your construction project is in the United States, the following apply (excluding CAL and NY):
If you're construction project is in Canada:
CSA Z91: Health and Safety Code for Suspended Equipment Operations
CSA Z271: Safety Code for Suspended Platforms.
Each province has their own regulations, for a detailed list, visit our Pro-Bel website.
Harmonizing between the applicable standards or regulations is not an easy task. Pro-Bel has a strong working knowledge of the codes and regulations and can help you decide what is applicable to your project's needs. All in all, working with Pro-Bel offers a liability protection since we understand and design for all codes.
---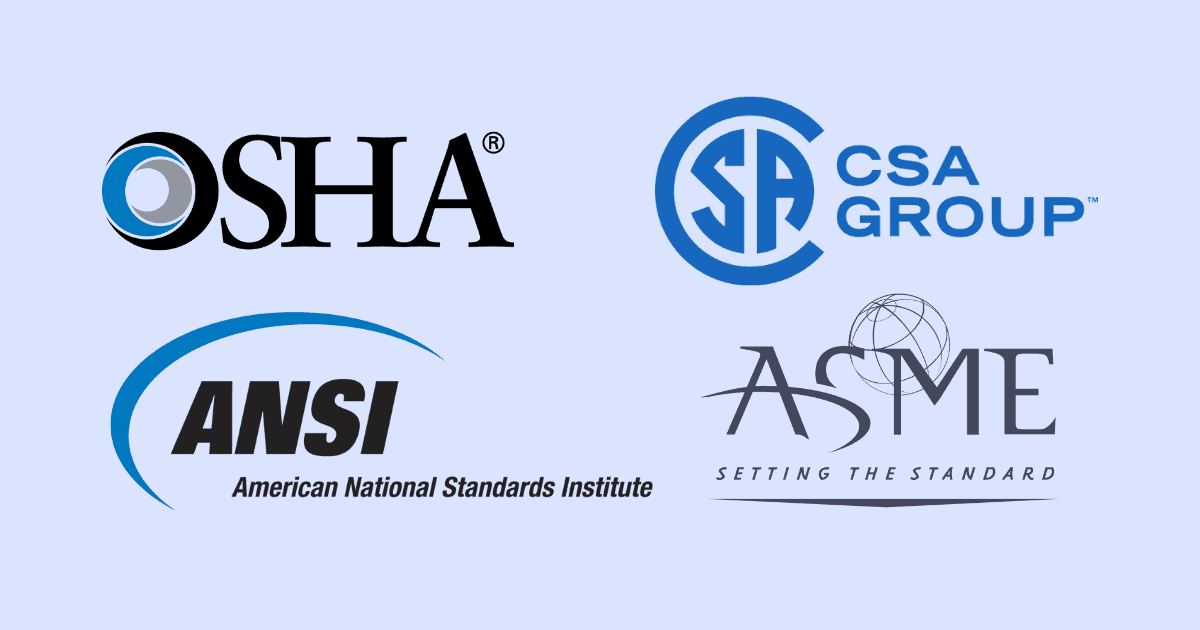 ---
BUILDING HEIGHT
One of the very first things we look at is building height, because this often determines the types of approaches we can and cannot use. After a 300ft (90m) drop, measured from the point of suspension, regulations prohibit the use of a bosun's chair/rope descent system and all window washing/façade maintenance work must be completed from a suspended platform/stage. And after 490ft (150m) buildings typically require a BMU/roofcar solution.
For example, after the building reaches a certain height (130ft in USA and 45m/150ft in Canada), façade stabilization must be considered. Intermittent Stabilization Anchors/buttons are often located at every level if the stage is picked up from the ground or every third level if the stage is launched from the roof. Intermittent stabilization anchors/buttons are the most common approach as shown in the image below. However, an alternative is a mullion track system, which is often incorporated into the mullions of windows in order to achieve continuous stabilization; but building geometry limits the possibility of using mullion tracks.
---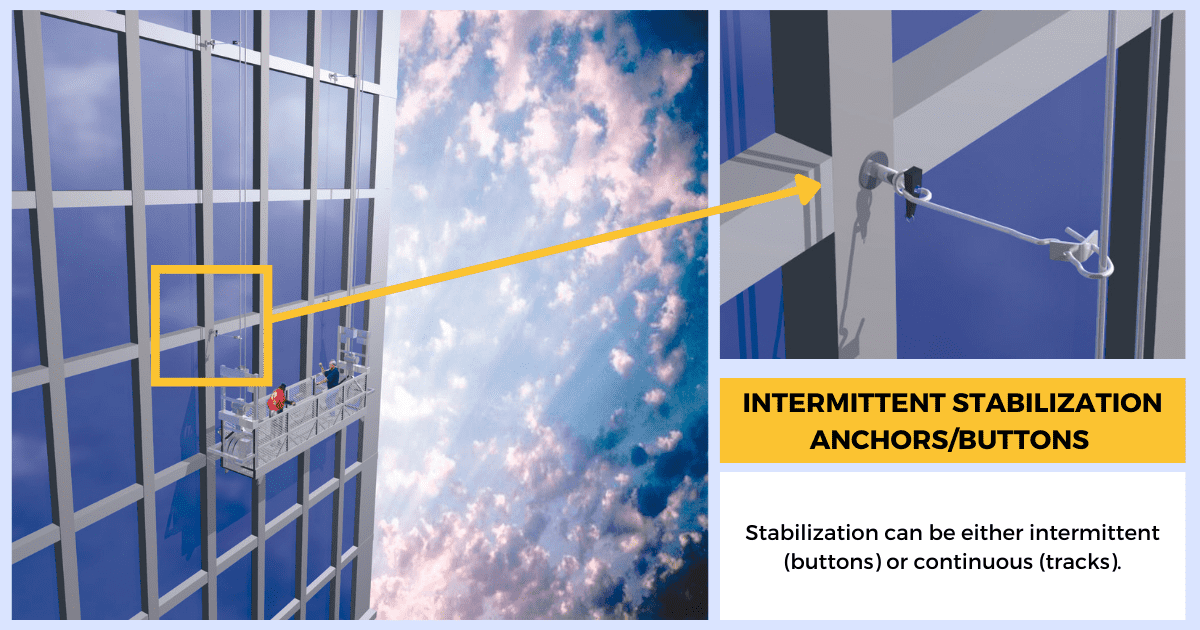 An example of an intermittent stabilization button/façade stabilization
---
FALL RESTRAINT VS. FALL ARREST
Fall restraint is the first approach we design for, which begins with keeping a worker outside a fall hazard area (anything within 2m or 6ft6in of a roof's edge or fall hazard). We place our equipment outside the fall hazard zone/restricted area to restrain the workers, so they do not fall. This typically can be completed with stand alone anchors or a Horizontal Lifeline system.
Fall arrest is considered the stop of a fall if one is to occur. The fall must be stopped (or arrested) within 1.5m in Canada and 6ft in the US to avoid this happening. In order to stop this fall properly, there must be at least 20ft/6m of vertical distance to arrest the free fall. If 20ft is not available to the lower level or landing, travel restraint must be designed for, or the fall eliminated with guardrail.
We prefer to design for fall restraint first as we never want to have a worker be at risk for a fall if it can be avoided; however, this requires the horizontal lifeline system to be placed approximately 10ft back from the outside edge of the roof.
---
A Pro-Bel Horizontal Lifeline in use.
---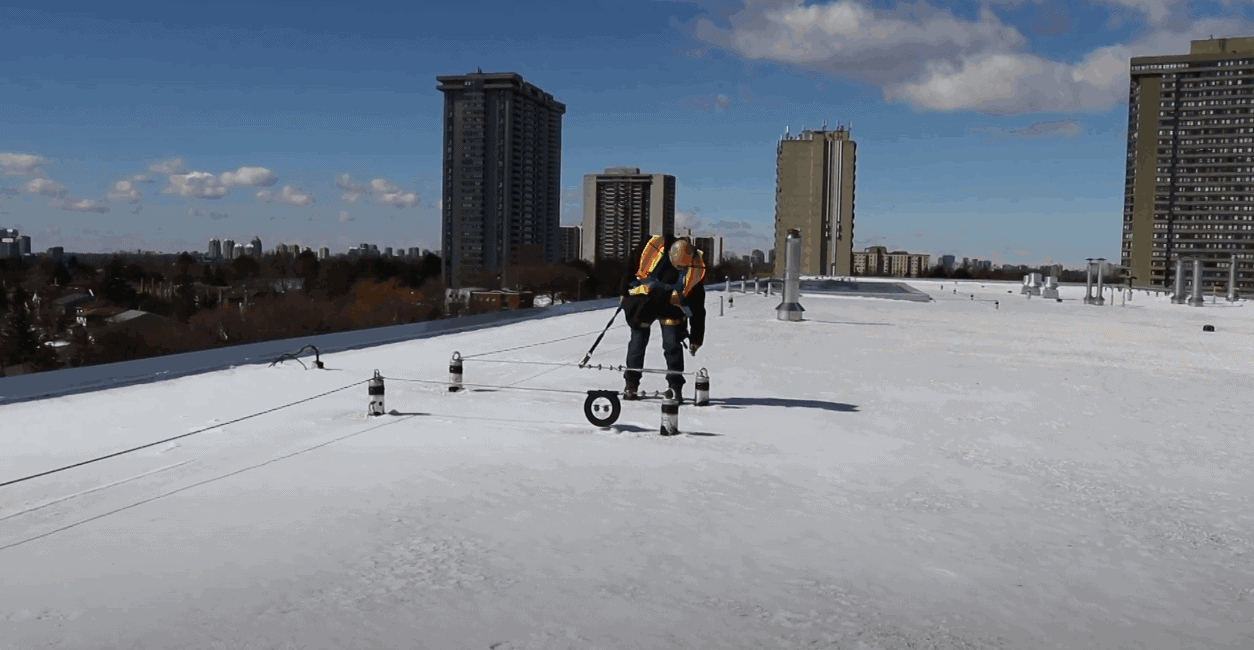 DIRECT LOADING
One of the most common building elements we coordinate with is the parapet. When designing for the lines of the bosun's chair or lifelines of workers, the parapet should be designed to take the applied load.
Applied loads are as follows:
Working load = 310lbs
Fall Arrest Load = 900lbs
Factored Fall Arrest Load = 1800lbs
The loading is based on 310lbs worker and tools / working load, if the worker falls it creates an instantaneous peak force of 900lbs on the parapet which is the fall arrest load. The factor on this load is typically 2:1 therefore, parapets generally should be designed for 1800lbs factored load horizontally and vertically.
Another important element to consider is that if a fall is to happen, how will the parapet edge react and most importantly that no piece of the parapet/façade will fall off and harm the worker or general public below.
If direct loading isn't possible, we move onto other solutions that clear the parapet and do not place any load on it.
---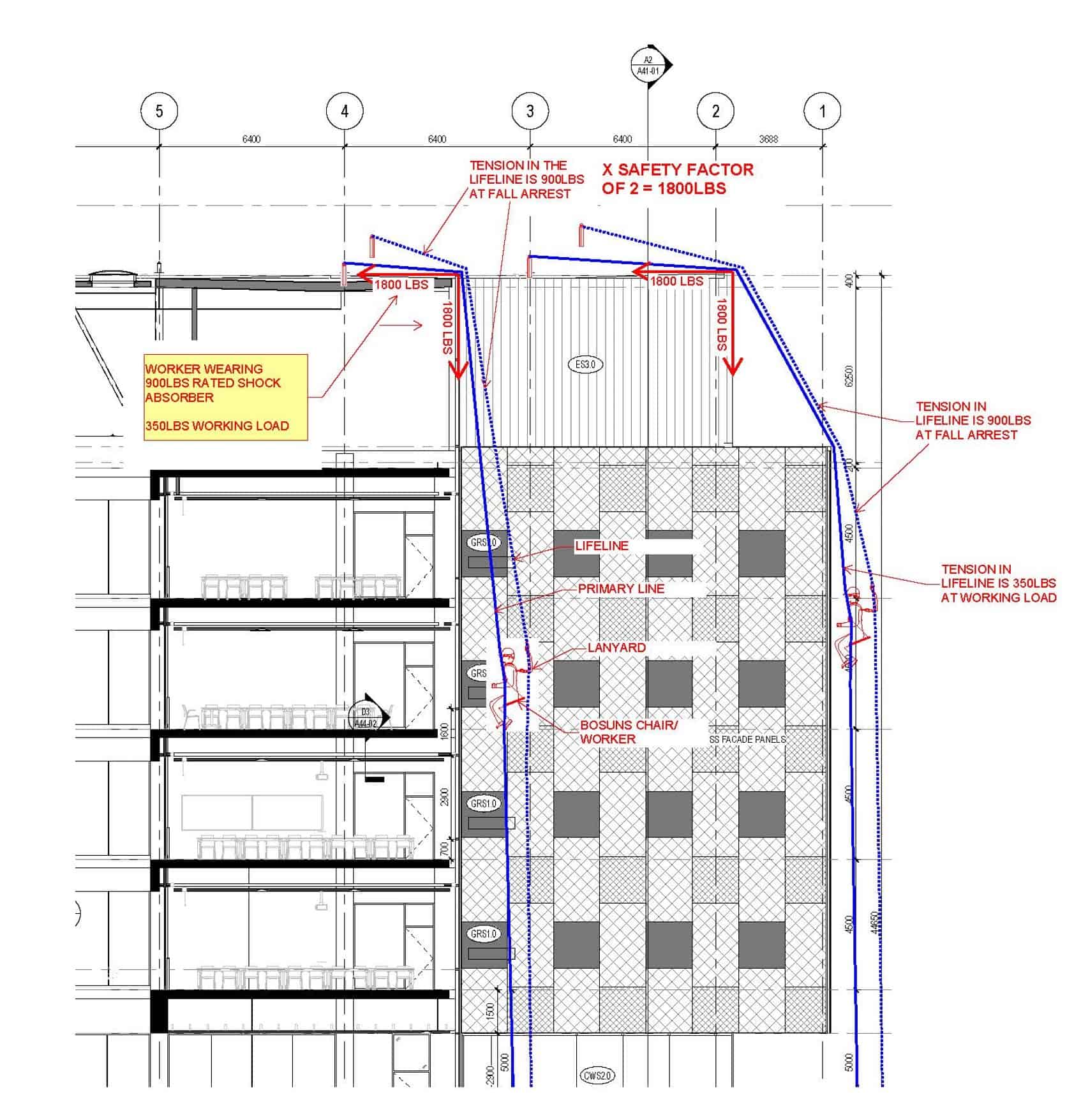 A snippet of a drawing showing direct loading.
---
EQUIPMENT LOCATION
Equipment location is very important to ensure building maintenance and window cleaning systems are safe to use. Designers work within the 30 degree rule as the body will experience more force then allowed if it swings any more.
For example, when any anchor is located closer than 3m (10ft) to the parapet, the anchors will not exceed more than 1.5m or 6ft apart. This is the typical dimension between anchors located that close. The farther back from the parapet we can locate the anchors, the more they can be spaced out.
---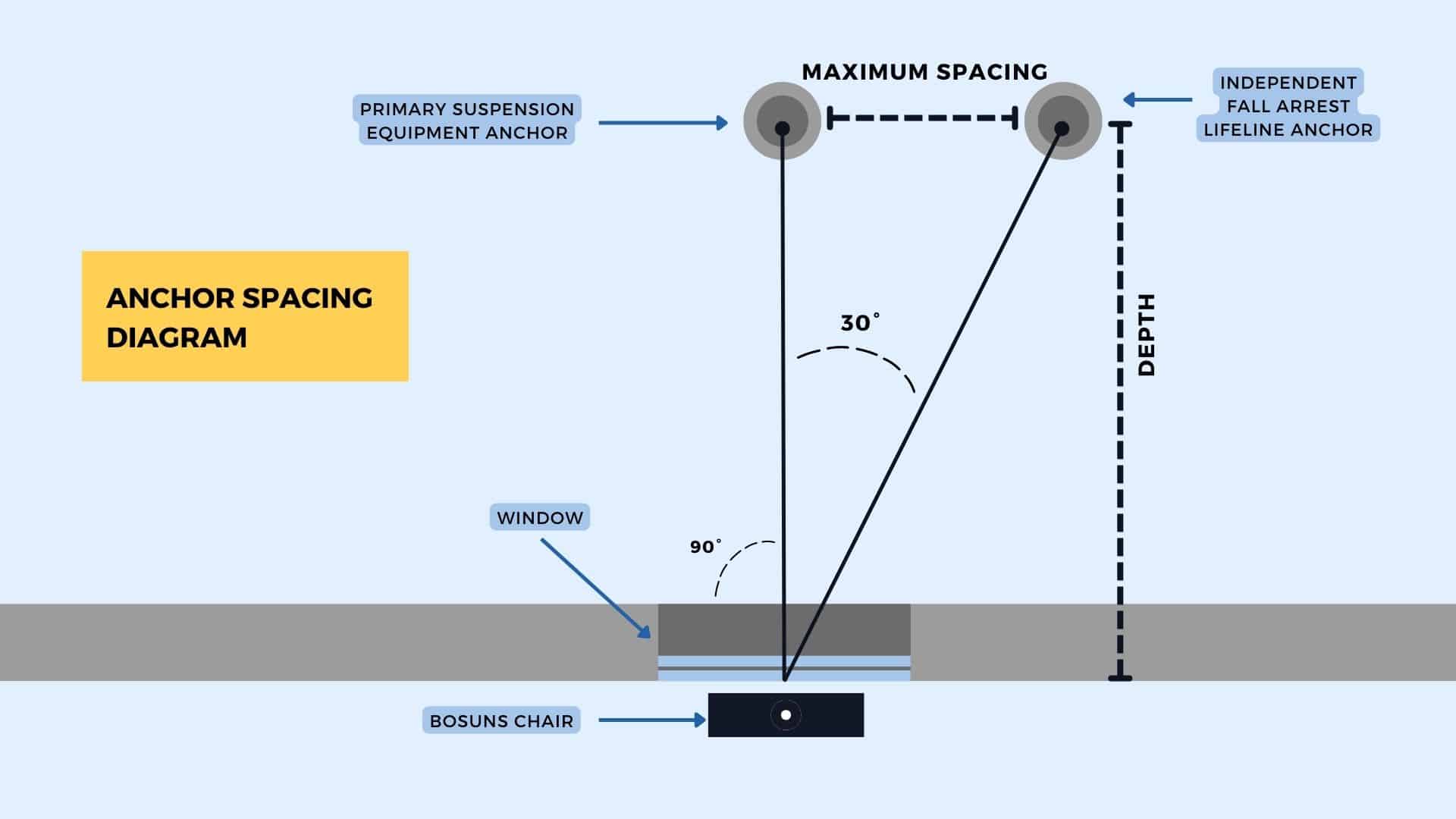 Angle Spacing Chart: an overview of anchor spacing for a bosun's chair set up.
---
GAP DETAIL
a common element in buildings today includes public terraces. In order to keep cleaning solutions lower in costs, we often ask for a gap between the parapet and the guard at the terrace, especially in cases where the guard is made of glass. The detail below is a common size that we ask for to ensure the lines can run under the glass and not hit it, creating an upturn.
---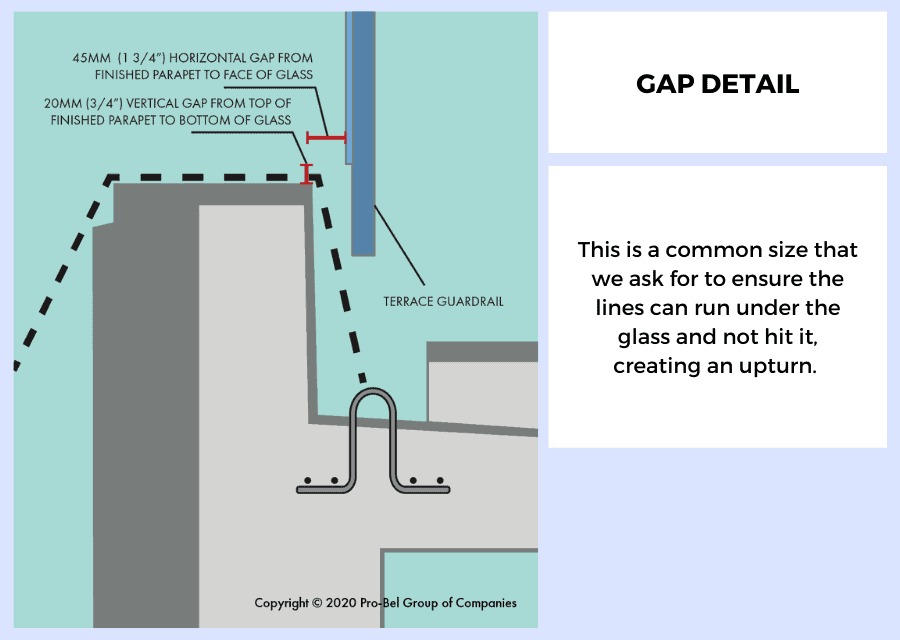 A graphic showing a common gap size our designers look for.
---
SAFE, FUNCTIONAL AND ECONOMICAL APPROACH
When designing for a building, the initial costs often feel very high. We design our systems for safety and function but also with economical solutions in mind in order to reduce the costs the system and window cleaning / maintenance costs in the future. Whenever possible, we try to assist with keeping the window washing and exterior maintenance cost as low as possible.
A lot goes into designing fall protection and suspended access systems that are safe, functional and economical. If you'd like more information or have a project you need help with, make sure to contact us here. If you're an architect, your project may be eligible for our free design service; send us your project info via link below to find out!
---
---
---
More on the Blog