---
Generally, roof anchors should be considered for window washing for any building over 3 storeys. This is because, water fed poles, ladders, or lifts aren't typically used for servicing facades much taller than this. Roof anchors are also required when fall protection is needed on a roof.
When it comes to window washing, if the building cannot be serviced from the ground by one of the above methods, then anchors are required. For example, if a building is above 3 storeys tall but there are obstructions on the ground level, adjacent buildings, or hills that prevent servicing from the ground, a rope descent system (RDS) is required.
Roof Anchors Should be considered when:

a building is higher than 3 storeys (i.e., a midrise building), and/or

if windows cannot be accessed from the ground with a lift, pole, or ladders

Fall protection is required for safe roof access on buildings 1 storey or taller
---
Rope Descent System (Direct Rigging) vs Suspended Platform
A rope descent system can be used for window washing at drop heights of 300ft or lower. If the drop exceeds 300ft, a suspended platform is required to be used – per OSHA.
Rope Descent Systems, also referred to as direct rigging systems on a bosun's chair are the most cost-effective solution for servicing the building façade.
---
A Rope descent System is the most cost-effective window washing solution.
---
---
Rope Descent System - Requirements
There are several considerations to keep in mind when designing for a rope descent/direct rigging system:
1. Typically, 2 safety roof anchors are positioned in line with the point of suspension while maintaining an offset degree to the safety line
2. One anchor is for tying off the suspension line, the other is for the safety line (also known as the lifeline)
---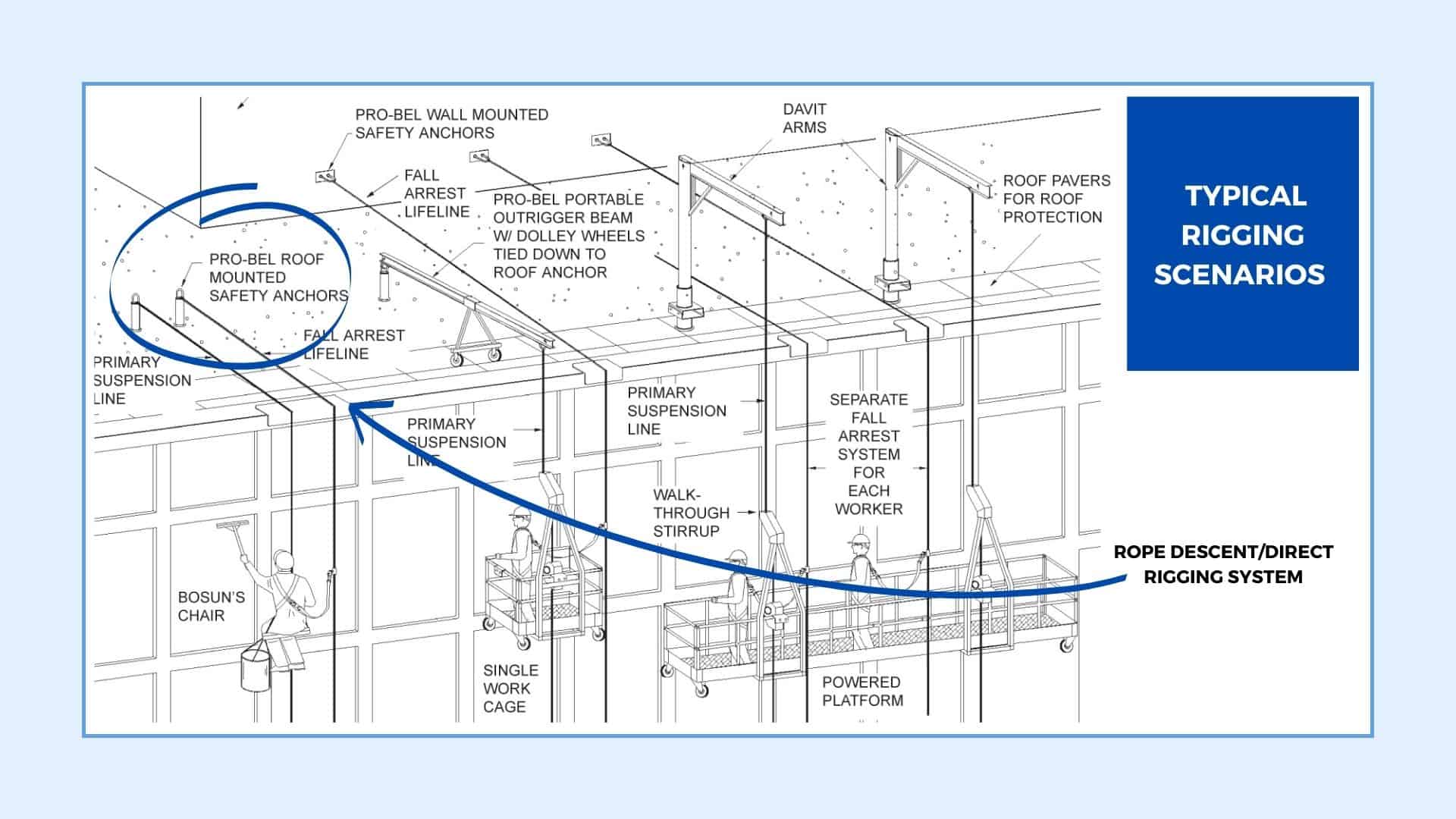 An illustration of the most common rigging scenarios, including direct rigging with Pro-Bel roof anchors.
---
3. The parapet/ building edges need to be designed to take the applied loads:.
310lbs working load (weight of worker and tools, bucket of water etc...)

900lbs Fall Arrest Load

1800lbs Factored Fall Arrest Load
---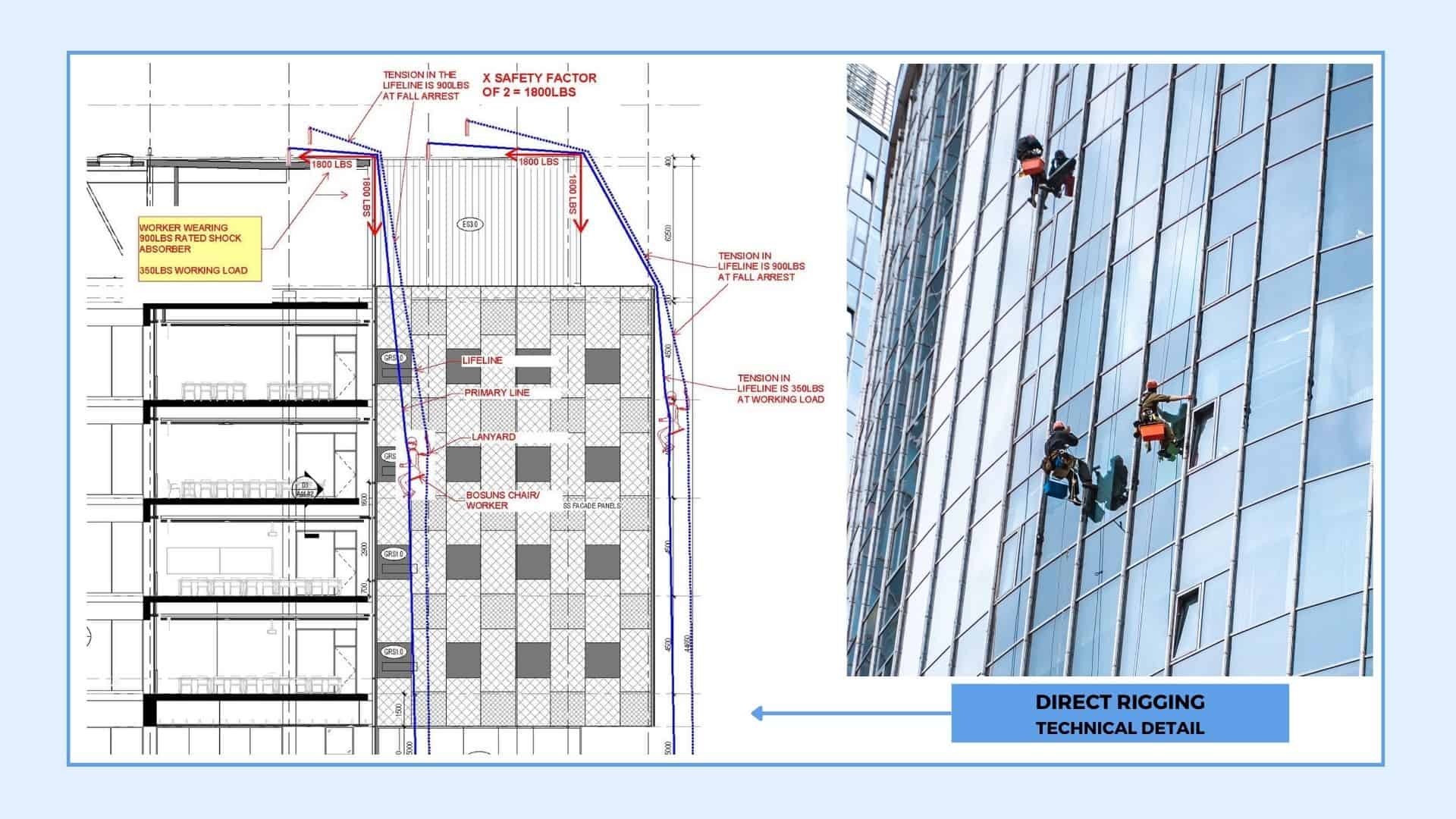 A technical detail of direct rigging load requirements.
---
4. If the parapet is non-structural, outrigger beams or davit arms will be required to go over the parapet to ensure no load is applied
5. Gap detail might be requested if there is a glass railing to avoid davits or outrigger beams
---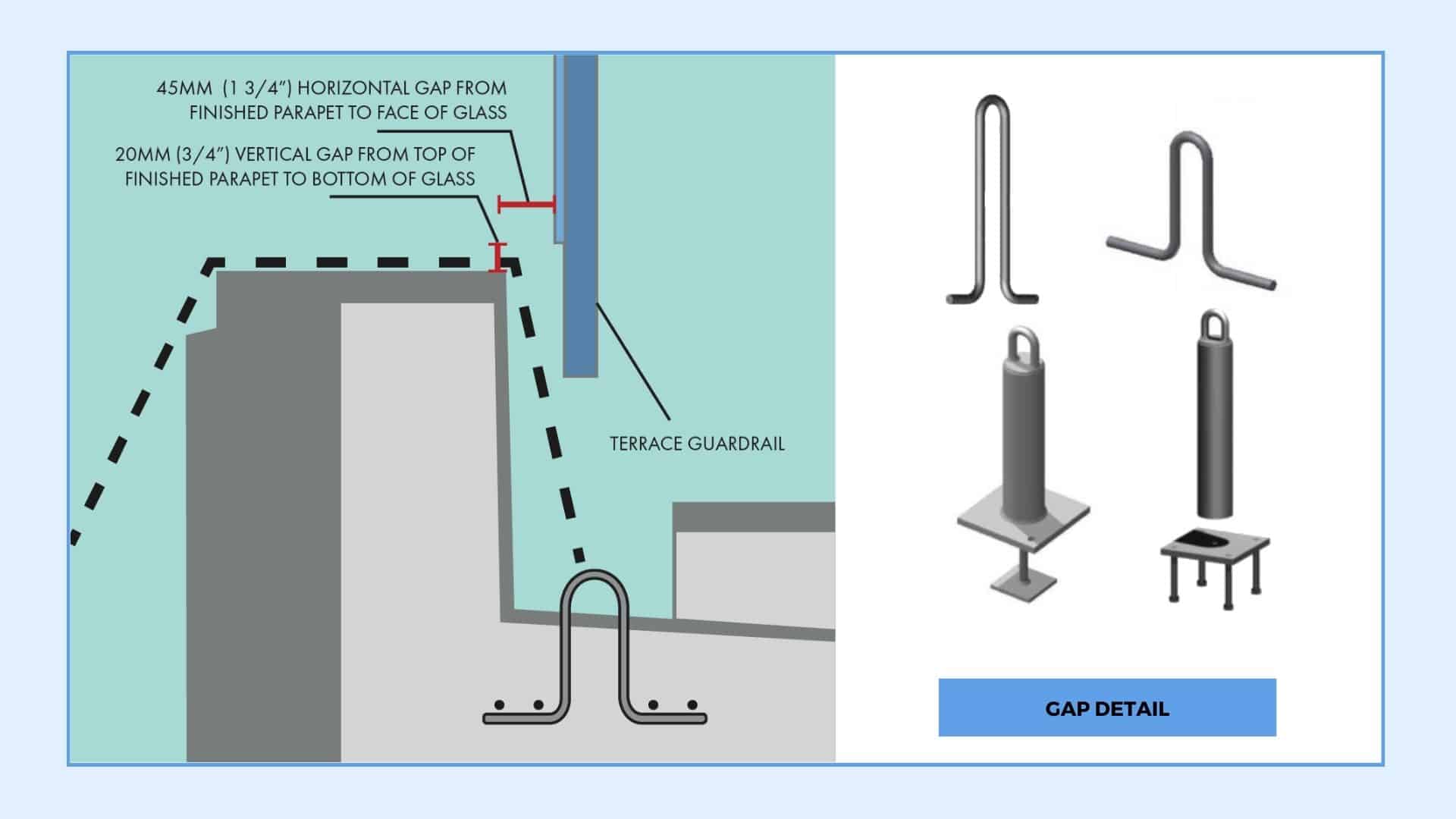 An illustration of the gap detail we often ask for in order to accommodate a rope descent system.
---
6. When we design for bosun's chair work, we must ensure anchors are spaced correctly to maintain an offset degree to the safety line. Designers work with 30° rule (depending on how far back anchors are from the roof's edge) as the body will experience more force than allowed if the lifeline swings any more. This means that the further back from the parapet anchors can be located the more they can be spaced.
For example, if the roof area is narrow, the anchors are typically placed maximum 6' (approx. 1.8m) apart. For a wider roof area, anchors can be placed 20ft (approx. 6m) back from the edge and spaced a maximum of 10ft (approx. 3m).
---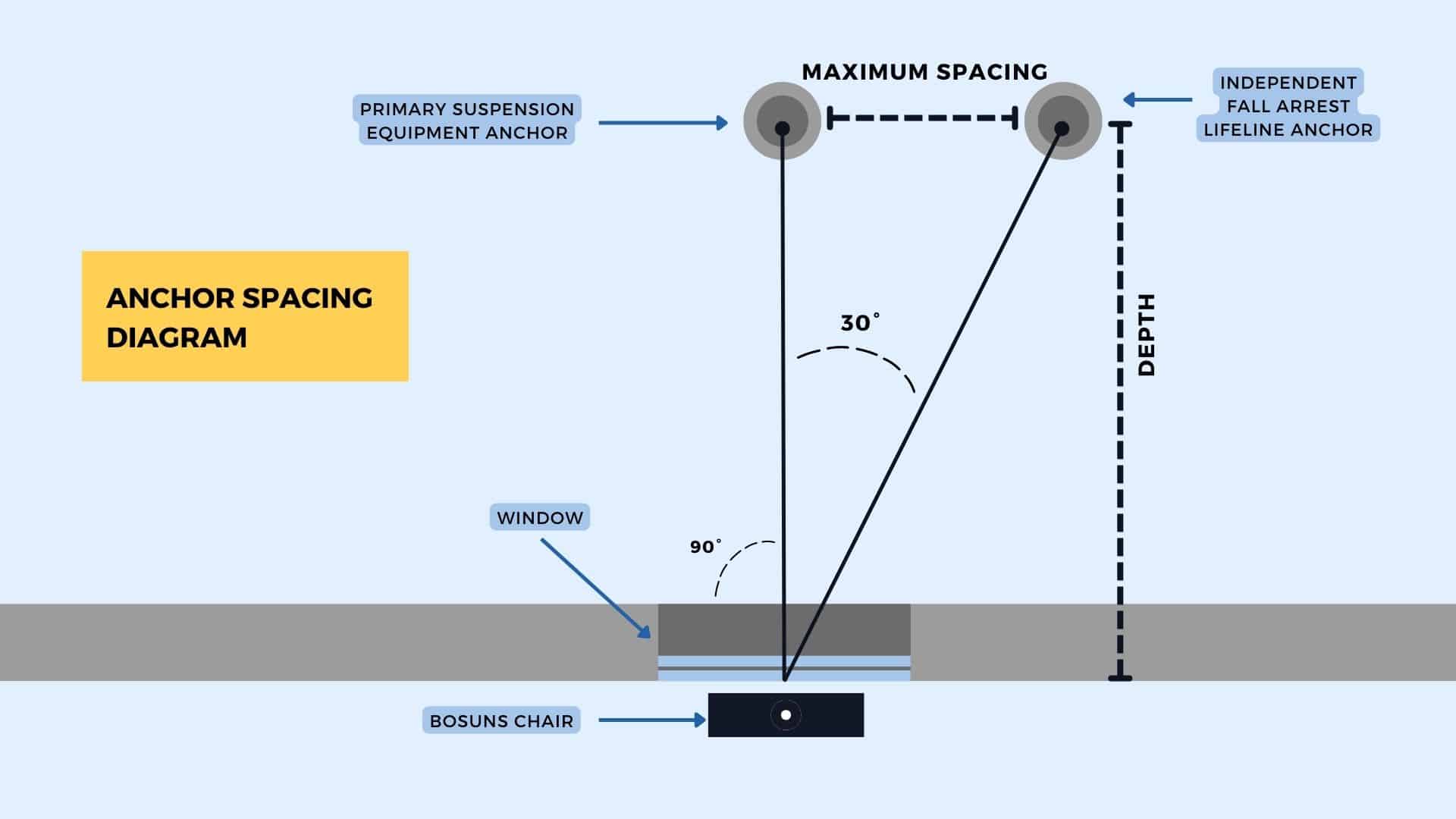 Angle Spacing Chart: an overview of anchor spacing for a bosun's chair set up.
---
What if a building is over 300ft?
As mentioned above, a suspended platform is required once the drop height exceeds 300ft. In this case davit arms are typically used. Davits are spaced approximately every 20ft with anchors placed between or occasionally behind the davit bases for vertical safety/lifelines.
This method is more costly than direct rigging because of the increased set up and rigging time involved; however, to comply with OSHA, this is the suggested method for buildings over 300ft.
---
---
NEED A FREE DESIGN?
We offer a comprehensive free design service to architects.
WE GOT YOU.
Fill out the form and an expert will be in touch.
---
---
More on the Blog